Blocked Drains? Cleared Now!
Free drain camera inspection with every drain water jetted. Got a blocked drain? Fixing Blocked Drains Is What We Do Best! You can be confident that our blocked drain experts with the latest water jet, drain camera and locating equipment will have the right solution for you.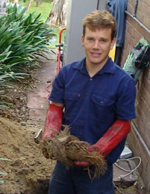 A blocked drain can have many symptoms, sometimes it's the inconvenience of a slow draining toilet or basin, other times it can be an awfully unhygienic mess.
Have you considered checking the condition of the drainage pipes of a property you are looking to purchase? This should be part of your pre-purchase due diligence to ensure you are aware of any additional expense as a result of blocked or broken drains.
Whatever your problem is you can be sure the problem will be fixed properly the first time . Our highly skilled tradesmen are equiped with the right tools and know how to get things back to normal for you as quick as possible.
This Is How We Fix Blocked Drains….
Step 1. Water Jet
We use our high pressure water jet to clear the blockage.
Our water jets have root cutting attachments capable of removing tree roots, grease build up, silt, rocks and foreign objects (a common one being clip on toilet fresheners) to clear the blocked drain.
Step 2. Drain Camera
Once the blocked drain is clear, with you we'll visually inspect your pipe using our drain camera. You can relax having seen for yourself that the job has been done properly.
We consider a camera inspection a must when fixing blocked drains. By using a drain camera we can accurately identify and assess any damaged pipes. To put it another way, would you trust a mechanic who worked on your car blindfolded?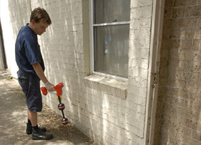 Step 3. Locator
If we find a damaged or collapsed pipe with our camera we use our locator to pinpoint on ground level exactly where and how deep the problem is. This information ensures we are not replacing sections of your pipe that don't need to be and allows us to provide you with an accurate quote for the necessary repairs to fix your blocked drain.
Whatever your problem is you can be sure the problem will be fixed properly the first time. Our highly skilled tradesmen are equipped with the right tools and know how to get things back to normal for you as quick as possible.
BLOCKED DRAINS ANNUAL MAINTENANCE SERVICE
By removing the tree roots before they completely block the drain this minimises the disruption and mess to you and the extent of long term damage the roots will do. We offer an annual maintenance program for customers who have ongoing root growth problems that cause blocked drains.
No need for you to remember when we last cleared your drain, we'll get in touch with you, organise a time that suits you and then come and complete the annual clean.
We like to make things easy for our valued customers!
Did You Know 75% of sewage overflows are caused by tree roots blocking pipes and many rising damp issues are directly related to faulty stormwater lines.
Do You Have One Of These Trees In Your Yard?

Camphour Laurel
Fig Tree
Gum Tree
Jacaranda
Magnolia
Liquidamber
Casuarinas
Hollies
Bougainvilleas
just a few recognised by Sydney Water for their highly intrusive root systems which can cause a blocked drain.
Whatever Your Drain Problem Is, With Fix It Now's Plumbing Service You Can Expect:
You will always speak to a plumber – no inexperienced call centre staff
Upfront Prices With No Surprises
100% Materials And Workmanship Guarantee
Qualified, Experienced, Fully Licensed And Insured Plumbers
A Call 30 Minutes Prior To Arrival So You Are Not Waiting Around Unnecessarily
Honest Advice and Up To Date Information From Polite And Friendly Tradesmen
Your Property Left Cleaner Than Before The Job
Easy Payment Options With Credit Card, Eftpos, Direct Deposit and Cash Facilities
We are blocked drains experts
Blocked Drain? We Are Experts In Blocked Drains!

In addition to all general plumbing work one of our specialties is fixing blocked drains. We have specialised drain clearing, drain camera and pipe locating equipment to
provide cost effective solutions to fix any blocked drain.

Emergency Plumber Always Available!


For those problems that happen at the most inconvenient of times we offer a genuine 24 hour emergency plumbing service. We understand that disasters can happen at any time of the day or night so we always have an

emergency plumber

on hand.
Our service provides plumbers in Sydney metro area covering the Northern Beaches, North Shore, Inner West, and the Eastern Suburbs.
Contact Fix It Now Plumbing and experience what superior customer service really means!